note that this release is different from all team releases (project independence).







Pitchwheel
Real time pitch changing plugin

* Changes the pitch but not the length of a sound.
* Large and easy to use, ideal for experiments and live performances.
* Full range adjustments from one semitone to an octave up or down.
* Unique intertia parameters for springy vibrato effects.
* Sample accurate changes prevent stepped pitch changes.
* Phase locked for stereo sounds.
* Buffer size changes, allows quality adjustments for vocal or percussion.
* Great visual feed-back with semitone snap, and actual pitch indicator.
* Extremely low CPU.





Glass Viper
Synthesizer Plugin
* Unique and organic synthesis.
* Wave shaping with 16 LFO's.
* Continuously changing waveform.
* Easy to edit, basic interface.
* 4 Voices per instrument.
* LFO Envelopes with speed and
gain slopes.
* Lush reverb and chorus effects.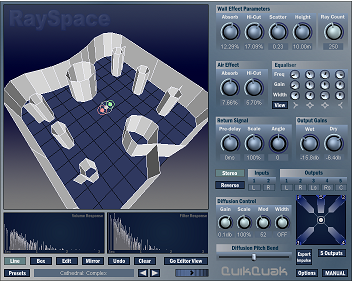 Rayspace
A reverb and space designer
* Mimics true space, convolution reverbs do not!
* Instant impulse creation!
* Walk though rooms in realtime.
* 5 channel surround acoustics.
* True speed of sound modelling of all reflections including
phase and interference.
Upstereo
A free stereo enhancer
* Loudness control enables a complex saturator to boost your
mixes.
* Stereo width slider going from mono to wide, bringing the
stereo image out and towards the listener.
* Subtle Air & Bass boosters to lift and help the audio
'breath'.
* Very low CPU usage.
* FREE!
Quik Quak Plugin Pack - MP
http://rapidshare.com/files/99897967/quik_quak_plugins.rar
password: audiopirate.blogspot.com